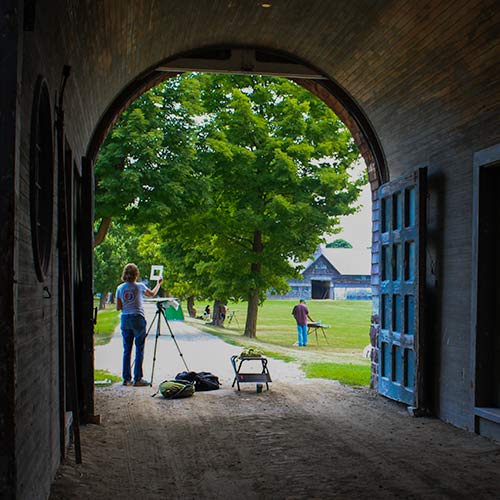 Nancy Rosen Stalnaker
Watercolor Artist
I grew up in West Hartford, Connecticut in a family that focused on the arts. My mother was a painter who worked in many media, mostly oils and watercolors, as well as printmaking; my Dad, in his retirement, became a sculptor in wood and stone. I am surrounded by a family full of exceptionally talented individuals in a wide range of art, music, and handcrafts.
My earliest memories of painting are with my Mom and her best friend, Alfreda. As a young girl, I tagged along on excursions to their favorite outdoor painting spots (Penwood State Park, the West Hartford Reservoir, and Elizabeth Park) and to their weekly art classes, where I sometimes served as their live model but was always happiest when just painting; that is when my love of painting began. Although largely self-taught in studio arts, I completed a minor concentration in Fine Arts at Syracuse University and still love to spend time lingering in museums, and poring through art books.
For many years, work and family commitments sidelined my creative activities. It wasn't until around 2010 that I returned to watercolor painting with renewed passion. I have taken a few workshops and set up my own studio at The Green House, in Burlington's south end and am now happily painting full-time, after completing a long career at UVM in research compliance.
Landscapes and waterscapes are my favorite subjects. I feel very fortunate to live in such a beautiful place and to have traveled to many other picturesque parts of the world, giving me a stockpile of ideas and inspirations. Having experimented with many different styles and techniques, my goal is to keep learning and moving her artwork forward. Over the past year, I have made it a priority to give back to the community through donations of artwork and participation in fundraising efforts for selected local charitable organizations.